Weimaraner Breeding Kennel "z Oltyňského mlýna"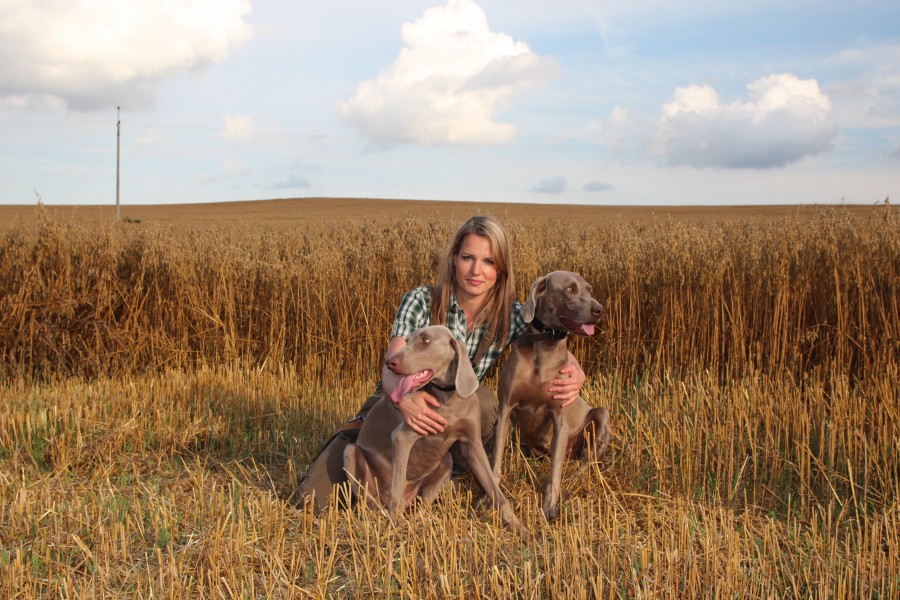 Our breeding started with Alaska z Jordánského údolí, a bitch that reared three litters successfully; many of them passed hunting tests easily, they are successful in the hunting practice. They have an easy-going character, and are pleasant and loyal companions of their masters. Some of them have become breeding dogs and bitches already. Alaska is 10 years old at the moment, enjoying her placid life in the woods and at home.
She has passed the breeding baton to her daughter from the 3rd litter (C). Cassiopee z Oltyňského mlýna has already reared successfully the first litter (D). I am an active hunter, and the hunting qualities of the litter had fascinated me so much that I decided to keep bitch Denni z Oltyňského mlýna. It is our third and youngest bitch for now. She is being trained at the moment, but her hunting qualities are taking a very interesting shape.
Denni z Oltyňského mlýna
Her mother Cassiopee is an easily controllable bitch, well trainable, very cuddly and easy-going. All our bitches are used in the hunting practice. They are excellent blood-trailers, fierce at varmints, which they strangle reliably; also, when seeking a wounded piece of game, they tirelessly trail it, pull and strangle it (Alaska won forest exams).
In autumns, all the bitches are actively used for hunting, including pheasantries. They are reliable fetchers, have an excellent nose, they are tireless, until they seek out and bring wounded game. In addition to small game hunts, we attend several duck hunts during a hunting season. Our bitches like water and are perfect swimmers. They actively seek and drive ducks out, even in heavily accessible terrains. They seek a wounded duck out tirelessly, not hesitating to dive. Cassiopee won the 2nd place at the Special Water Work tests, when the winner was decided only on the basis of the age, as the score was equal. The winning bitch was one month younger.
All of our Weimaraners are very intelligent, able to assess a hunting situation on their own. When seeking out, they always prefer wounded game to game that cannot run away anymore.
The qualities of Weimaraners include guarding and protection of their territories, which can be seen also in our "girls". They guard devotedly not only adults but also our kids, whom they play, get into mischief and cuddle with. And as it is not always easy with our children (3 and 6 years old), the best qualities of our bitches include patience and serenity.
I could not have wished any better companions in hunting and in personal life.
We are now planning litter E, in autumn 2015.
Our puppies are under permanent veterinary supervision (my father is a veterinary). Puppies are dewormed several times, vaccinated, receive an international vaccination card, and a certificate of origin; they are tattooed. Chips can be applied upon agreement. If a season permits, we try to rear puppies outdoors, in a well thermally insulated kennel. As a result, they are more used to the cold and more resistant. In addition, they are accustomed to being outdoors; we have quite a large garden, which can be used by them without limitations. I will be pleased to advise you on which puppy to select, especially regarding the character. Full breeding services are a matter of course.
Should you be interested, do not hesitate to contact me:
Tereza Horská
email: teryn@email.cz
mob. +420 777 663 493